WSLK
is Smith Mountain Lake's own radio station, licensed to Moneta, and focused on local people, events and issues.
Our mission is to provide the residents of Smith Mountain Lake and the surrounding communities with a radio station that is sensitive to, and reflective of, their spirit, moods and quality of life. This is demonstrated in our choice of music format, as well as our dedication and commitment to all things local.
We have committed our resources to providing local information in the form of a 'Community Calendar', fishing and hunting reports and a local 'Jobcast' just to name a few.
We welcome audience participation in the form of polls on this website, emails and phone calls to the radio station offices, and submissions of information of all types that are of interest to our listeners.
We intend to be present at major functions, reporting back live, where possible, as events unfold.
We encourage all local organizations, charities, houses of worship and other non-profits to allow us to assist in promoting your events and worthwhile causes.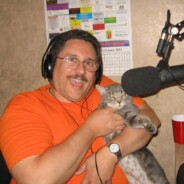 Come by and say "hey" to Gremlin! She is an amazing assistant at WSLK!